Oklahoma State basketball: How addition of Moussa Cisse improves Pokes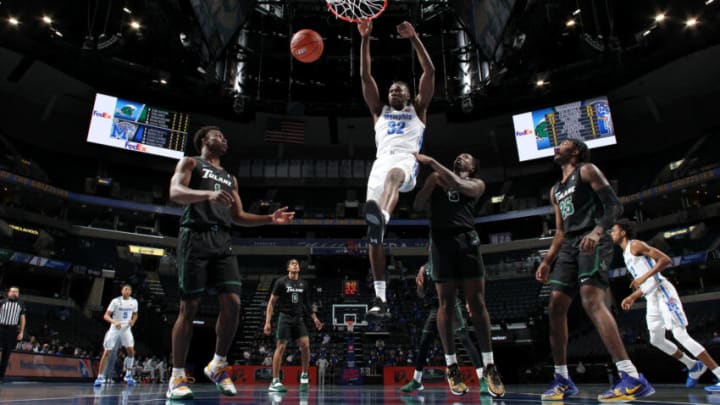 MEMPHIS, TN - FEBRUARY 24: Moussa Cisse #32 of the Memphis Tigers dunks the ball against the Tulane Green Wave during a game on February 24, 2021 at FedExForum in Memphis, Tennessee. Memphis defeated Tulane 61-46. (Photo by Joe Murphy/Getty Images) /
Mike Boynton managed to sell Stillwater again, and on Thursday, the Oklahoma State basketball team didn't just get better, but got even better than last year's squad.
Moussa Cisse, a 6-foot-11 center who transferred from Memphis, announced Thursday on ESPN and Twitter his commitment to play for the Cowboys over offers from Florida State, Georgia, Creighton and Cincinnati.
https://twitter.com/moussacisse224/status/1415679705915613189?s=20
On this same day last year, Cisse, who is originally from Guinea, Africa, announced his commitment to Memphis as a 5-star recruit out of Lausanne Collegiate School in Memphis, Tennessee. 247Sports had Cisse ranked as the 10th best recruit in the 2020 class and No. 2 center at the time. 
This new addition of Cisse down low obviously improved OSU significantly overnight, but, more so, solidified the Pokes' case to be even better than last year's team that fell in the second round of the NCAA Tournament and was led by potential No. 1 NBA Draft pick Cade Cunningham.
The answer to how could be as simple as the ole saying, "Two is better than one." We can start there, but that's not entirely why.
Cunningham was the dude for the Cowboys last season from beginning to end. This season, though, Cisse won't be the only former 5-star recruit wearing America's Brightest Orange with Kansas transfer Bryce Thompson already practicing in Stillwater.
OSU's only significant loss from last season's team is Cunningham– granted, an enormous blow– but Boynton basically filled the vacancy left by a 5-star recruit with a pair of 5-stars. Not to mention a more experienced, incredibly talented backcourt returning and an improved Kalib Boone, who this new addition might help the most. With that being said, I am not saying either Cisse or Thompson is as talented as Cunningham, or else they would be headed to the NBA with him right now.
The fact Cisse is a former 5-star recruit is not why I believe his addition makes the next OSU basketball team better than the last, though.
Cisse still struggles offensively, averaging only 6.6 points a game as a freshman, but his massive 6-foot-11, 215-pound presence down low is exactly what last season's squad was missing and of what this season's team was in desperate need.
Cisse will only improve offensively, and he already does what a team wants a big body to do on the other end as a great rim protector, shot blocker and rebounder. He averaged 6.3 rebounds and 1.6 blocks a game last season while earning American Athletic Conference Freshman of the Year honors.
Cisse being on the roster also now gives Boynton the ability to move Kalib Boone from an undersized center at 6-foot-9 to a towering forward, transforming a Cowboys frontcourt that was bullied most of last season and relied on tall guards, such as Cunningham and Isaac Likekele, to pick up the slack rebounding.
The buzz around Cunningham last year gave OSU fans Final Four aspirations, but those expectations could be more realistic for this upcoming season, because what that squad was missing, this team has with Moussa Cisse.